Copy VS Content: Balancing Paid Ads and SEO
Aya Yap
June 29, 2023
16 Minutes
The age-old question of marketing: Pay for ads or go organic?
Brands of all sizes work to optimize their marketing strategies so they can balance cost versus revenue and results. For most businesses, this means using either organic content or paid content, or a mix of both. But how does each strategy work, and which is the best fit?
There's a lot that goes into both organic and paid content – ways they differ, advantages and disadvantages, and tactics for best results. In this article, we dive into the rough basics of both strategies, with tips to maximize performance. 
Organic versus Paid Content: What's the Difference?
Both paid advertising and organic content are popular strategies in marketing. By understanding the how-to of both tactics, alongside their pros and cons, brands can optimize their efforts with the right balance of each.
Basics and benefits of organic content
Search engine optimization (SEO) is the process of generating free and organic traffic from search engines such as Google. It relies on unpaid visibility, with clicks coming from search results as users look up a topic or phrase and are directed towards your website.
SEO involves the optimization of your website or content to improve search engine results page (SERP) visibility and ranking. The higher that these search engines rank your site, the more likely it is to receive organic traffic.
Some elements involved in SEO include:
Keyword research

On-page optimization

Link building ("do-follow" and "no-follow" backlinks)
Search engines process tens of thousands of searches per second, and each of those searches leads the user to a website that matches their query. Each click through to the website counts towards your organic traffic, which is a cornerstone of brand online performance.
Organic traffic is a consistent and passive method of gaining website visitors, who can potentially become leads or conversions. It has more longevity than short-term display ads, especially if you're creating evergreen content. SEO also increases brand awareness and reach, which leads to increased revenue.
Basics and benefits of pay-per-click (PPC)
Pay-per-click (PPC) marketing is an online advertising method where brands use different platforms to display ads, and pay a fee anytime a user clicks that ad. A business can launch PPC campaigns on search engines and social media platforms.
Google Performance Max is one such tool that brands can use to launch campaigns on Google channels such as YouTube and Maps.
Performance on PPC depends on factors such as:
Keywords

Audience targeting

Display platforms
PPC generally delivers quicker results since ads launch immediately, although it can be affected by timing and search terms. Leveraging a paid advertising campaign puts your content at the top of SERPs or gets it boosted on social media timelines, increasing your visibility – especially to potential new customers.
When to Use SEO and PPC
Neither SEO nor PPC is objectively "better" than the other – each has advantages and drawbacks. A business should choose the strategy best suited to its marketing needs and goals.
SERP real estate
Paid ads appear at the top of search results, dominating above-the-fold real estate. On desktop, they occupy the first 2–4 spots, while taking up 3 on mobile browsers. Businesses also have the option of displaying their ads at the bottom of a page. There will always be a "paid" or "sponsored" indicator for transparency.
Meanwhile, search engines typically display 10 organic search results per page. Users must scroll past the paid ads to reach organic links, but these will take up more visible space. Google also has a "featured snippet" component that lifts a section of text from a website that closely matches/answers a user search query – which generally appears above both paid and organic results.
SEO content also contains more brand information, such as embedded images and business logos. Search engines can also link to Google Business Profile details and the local Map Pack.
Costs
PPC campaigns have a direct and measurable cost, which can escalate depending on clicks and traffic. Platforms charge varying amounts, which may include a minimum threshold.
On the other hand, SEO has no direct costs beyond expenses related to development and creation. For example, some brands pay content creators to generate written and visual assets. Other times, brands contract agencies for SEO services such as keyword research and website optimization.
Both PPC and SEO also have indirect costs such as payments for website hosting, performance tracking platforms, and marketing efforts.
Metrics
Two key performance indicators for SEO and PPC are click-through rate (CTR) and conversion rate (CVR). These measure the number of times users click a link and follow it to your website, and the number of times users make a purchase or subscribe to your service.
Research has shown that the highest organic result on Google gains an average CTR or 31.7%, followed by 24.7% for spot 2 and 18.6% for spot 3. Users are also 8.5x more likely to click an organic result than a paid ad.
However, paid ads on Google have an average CTR of 5% and an average CVR of 3.75% – but they're 1.5x more likely to result in a conversion.
How to Leverage Both SEO and PPC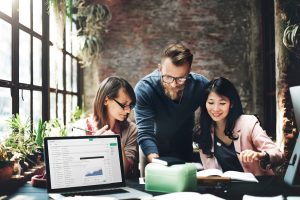 Mixing up and combining your marketing strategies can deliver better results than simply sticking to one channel. By leveraging both SEO and PPC to market your business, you open up more opportunities for customers to reach your brand and convert.
There are several ways for PPC to support SEO content – namely by using paid ads to promote landing pages, blog posts, and other organically-created content. This way, you can drive traffic to your assets and increase brand exposure.
Additionally, data from your PPC campaigns can support your SEO efforts. Brands gain a lot of data from ad platforms, such as keyword search volumes and specific phrases that customers use to find you. You can also view keyword search volume and search terms that your competitors are bidding on or ranking for.
Take that data and use it to refine your SEO strategies! You can create organic content that targets high-volume keywords or ones with low keyword difficulty. The data also allows you to brainstorm ways to outperform your competitors.
On the other hand, your PPC campaigns won't be as effective if your website and content aren't optimized. If people click your display ads and discover your website is difficult to navigate, looks unappealing, or doesn't contain reliable information – they'll just click off and go somewhere else. Every person who closes that browser window adds to your bounce rate and affects your site's credibility and ranking.
FYI – this goes for mobile devices as well, so make sure you have responsive website design.
Making the Most of SEO Content
You can increase the effectiveness of your SEO strategies with certain tactics. When it comes to organic marketing, it's important to pick your battles and find ways to innovate.
Partner with brands and people
This doesn't mean blowing your budget on a big-name personality, of course. There are plenty of micro-influencers who are open to brand partnerships. Or if you don't want to go the influencer route, then take the angle of featuring "everyday people" in your marketing. There's a reason Dove's #RealBeauty campaign is one of the most successful marketing campaigns in the 20th century – it featured real people with regular bodies.
Brands can also partner with other businesses through link exchanges, guest features, and collaborations.
Pick your platforms
It's good to diversify your content strategies, but if you've got eggs in too many baskets you won't keep track of them all. Brands – especially small businesses – should stick to 2–3 platforms so they're not stretching time and resources. If you have the budget and manpower to manage additional accounts, it's absolutely an option – just that this could produce diminishing returns.
Additionally, consider your target audience. For example, if you're marketing towards mostly millennials and Zoomers, you'll have more traction on platforms like Instagram and TikTok. Or if you're trying to break into the gaming niche, explore options on YouTube and Twitch.
Elevate user-generated content
This one's a two-way street. User-generated content (UGC) is a costless way of boosting your social proof, since it's unpaid, which consumers perceive as more "authentic." On your part, by elevating UGC and therefore connecting with your audience, you treat them with value and care. It shows you're involved with the community built around your brand, and it's also a simple way of saying thank you.
Maximizing Your Paid Advertising
Since PPC has direct associated costs, you want to maximize your payments and earn a return on investment. Otherwise, your campaigns might cost you more than they benefit.
Use the most optimal tools
There are plenty of PPC tools and platforms available, but they might not all be suitable for your business. Performance Max, for example, might work for small businesses who don't have the budget for a full marketing team. However, since it offers less control for brands in terms of positioning and bidding, it may not be ideal for brands who want a more hands-on approach.
Small businesses and those that operate within a specific geographic location may also want to take advantage of Google Business Profile and Apple Business Connect. The two tools are no-cost ways of boosting local SEO and increasing opportunities for leads and conversions.
Retarget and remarket
People who visit your website or eCommerce shop then click away at any point aren't always lost revenue! You can still reach them with retargeting ads and marketing efforts such as emails. You can prompt a potential customer to return to their cart, promote the product or service they were viewing, or offer a discount if they complete their purchase.
Retargeting is statistically effective – it can increase conversion rates by up to 26% and performs almost 10x better than a regular ad campaign. One in four customers also appreciates a reminder of products they've shown interest in. Moreover, retargeting customers is cheaper per click versus acquiring new customers.
Review the data
Keep track of all the metrics of your PPC campaigns – especially those beyond click-through rates and conversion rates. Things like cost per conversion (CPC), wasted spend, quality scores, and return on ad spend are all essential for making informed decisions.
By paying close attention to these performance indicators, you can continuously improve and optimize your ad campaigns. Metrics tracking lets you understand which channels aren't profitable, which drive the most clicks and conversions, and which are most cost-effective.
Two (Strategies) is Better Than One
Two can be as bad as one – but they can be more effective, too! Sustainability and effectiveness are key factors in marketing campaigns, and it's a balancing act to maintain both in SEO and PPC. It may feel overwhelming to have to think in both the short and long term, but by leveraging both copy and content, you'll see better results. Then it's just a matter of sticking to your budget… and delivering on what your brand promises.
Your marketing efforts are the cornerstone of your business growth and success. Strategy is at the heart of Kika's services, as we formulate and execute high-impact marketing tactics that deliver value and results. Our digital marketing services include both PPC and SEO so you can optimize your online presence.
Get the ball rolling with a free marketing consultation today!