Local SEO with Apple Business Connect – What's New?
Mariia Rozumna
June 25, 2023
13 Minutes
Local SEO on iOS systems got a boost with Apple Business Connect.
Whether you're a local coffee shop or a grocery, having an online listing of your business goes a long way towards boosting your digital presence. Local search engine optimization (SEO) is a key factor for businesses that rely on serving customers within a dedicated area.
Make your business visible to every iOS user in your location to boost your reach, leads, and revenue. Here's a rundown of the updated Apple Business Connect platform and what it means for local SEO. 
What is Apple Business Connect?
Apple Business Connect (ABC) is actually a refresh of the old Apple Maps Connect. The free platform allows businesses to upload information and verify their identity on Apple Maps through a place card.
Some actions businesses can take on ABC include:
Uploading menus and pricing

Providing business updates (e.g. closures, new hours, etc.)

Updating information (e.g. phone numbers, addresses, website links)

Offering promotions

Responding to queries and reviews

Allowing customer bookings
Apple Maps is the default map system on Apple devices, the same way Android devices have Google Maps. Browsers like DuckDuckGo and apps such as Siri also use Apple Maps when responding to a voice query on iPhones, iPads, and Apple Watches.
Users can also search for businesses on Apple Wallet and other iOS tools.
How Apple Business Connect Works
The updated tool allows businesses of all sizes to claim place cards and optimize key information for all Apple users. It now includes features such as "Good to Know" details to entice customers, and API access that businesses can use for listing management and third-party integrations.
Features of Business Connect
The platform lets companies claim a "place card" for their business. The card features valuable information such as opening hours, contact details, and real-life images. 
To claim the card, business management must input a verification code sent to their designated mobile number and/or submit proof of address, such as a utility bill.
Some features that businesses have include:
Location, photos, and branding

Showcases and Place Cards

Business information

"Good to Know" details such as air-conditioning, parking, internet, etc.

Insights for single and multiple locations

Domain verification

Third-party exclusive features
ABC complements other Apple services such as Tap to Pay and Apple Pay, alongside other contactless options.
Apple also made the API available for businesses, which they can use through listing management services. It can also integrate with services such as Booking.com, etc.
How to navigate Business Connect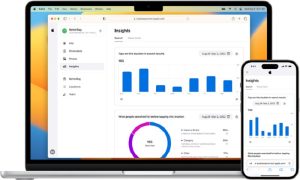 From Apple
There are three types of accounts on the Business Connect platform: Small Business, Enterprise, and Third Party Partner.
A small business can use its existing Apple ID or register a new one on the self-service portal. Once logged in, businesses can add information and personalize the place card. Alternatively, if you're already listed on Apple Maps, you can claim and optimize the existing listing.
Small businesses must have less than 25 locations.
Apple considers a business as an "Enterprise" if it is a single business with over 25 locations, or a group of businesses with multiple locations. Enterprises have unique features, including the option to send sign up links to third party partners, allowing them to add location-specific updates. 
Information required of an Enterprise includes legal name of organization and business, phone number, website, and physical address.
Lastly, Third Party Partners are organizations that deliver information or perform actions on behalf of another business. This requires an invite link from a registered Enterprise. Information required includes legal name of organization, phone number, website, D-U-N-S Number, and address.
Although the platform is primarily free for businesses, there is a paid subscription for access to Business Essentials. Features include device management, 24/7 Apple support, and cloud storage.
Apple Business Connect VS Google Business Profile
Apple Business Connect is the Apple counterpart of Google Business Profile (GBP), a Google-exclusive platform for business listings. In terms of local SEO, having a GBP increases the chances of a business appearing on the Google "Snack Pack" – the top three businesses that appear at the top of a Google search results page.
GBP and ABC offer similar services to businesses. They allow for management of relevant information such as opening hours, contact details, and store images. Both platforms also allow a business to respond to reviews, chat with customers, and generate leads.
The primary difference is, of course, the integrated services. GBP works with Android devices and Google Search, while ABC works with Apple devices and Apple Maps.
However, Google leads the way in user volume, processing over 99,000 searches a second or 8.5 billion searches per day off an estimated 1 billion users. Android, a Google-integrated platform, has a market share of 71.4%. Meanwhile, Apple iOS has a market share of 27.9% among mobile operating systems – with 100 million users. 
Benefits of Business Connect
Small, medium, and large businesses alike can benefit from claiming their place cards on Apple Business Connect. Besides boosting lead generation through local SEO from iOS device searches, businesses can gain advantages from its rich features.
Information control
According to Apple's senior vice president of Services, Eddy Cue, the Business Connect platform provides owners with "the tools they need to … take more control over the way billions of people see and engage with their products and services every day."
Business owners can decide what information to include or exclude from their listing so long as they are transparent and honest with the details. With the included customization and optimization options, owners can double-check and verify everything on their place card.
Improved customer engagement
The Apple Business Connect place card allows customers to take direct actions such as ordering food or placing a reservation. They can also immediately take advantage of any ongoing promotions. This increases customer engagement and generates more leads for a business.
Additionally, management can respond to any reviews or queries left by customers through the platform. They can connect more readily with customers and address issues or manage their online reputation to improve social proof.
Accuracy and up-to-dateness
The ease of access and use means businesses can ensure all information is accurate and up-to-date. Customers will no longer have to search for latest opening hours or menu prices, since every detail is available with just one click. This lessens the risk of a customer changing their mind due to inadequate or incorrect information.
Growth for small businesses
Apple says it designed the platform with small businesses in mind so owners can customize their digital presence. The aim is to make the experience more convenient for customers while also improving engagement for businesses.
Small businesses can leverage the Apple Showcase feature to highlight promotions, offers, and seasonal specials. It gives additional visibility to these promotions within Apple Maps, which can boost a small business – especially for consumers searching for products or services in their local area.
The Insights feature also allows a small business to monitor metrics such as listing clicks, incoming traffic, user sources, and more. They can also track what actions customers are taking such as:
Requests for directions

Shares for listings

Website clicks

Showcase views

Direct calls
With these insights, owners can make data-driven decisions to optimize their listings and improve their services.
What Business Connect Means for Local SEO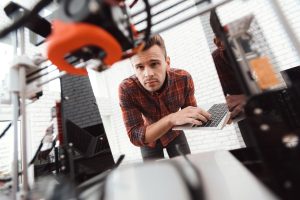 If you're a business that offers a product or service within a specific geographic area (town, city, or region), then local SEO is critical to your online presence and revenue. The benefit of local SEO is that consumers can find your business in local search results based on key phrases such as "best __ near me" or "__ in my area." The closer you are to the top of these results, the more leads you can obtain.
Apple Business Connect allows businesses to provide the necessary context to match these searches, such as address, offerings, and hours of operation. This will ensure that when customers perform searches relevant to your business, you appear in the results. Additionally, ABC will show details such as travel time to your location or available tickets and times, giving customers further information to make their decision.
The more details you include, the higher your chances of success. After all, if you see a business that just has a name and location versus one with listed services, photos, and chat options – you're likely going to choose the latter.
Your Business Connect place card also acts as social proof, increasing customer trust and loyalty. Existing customers can post reviews that new customers can view to gauge whether they'd like to engage with you. Leveraging the Showcase and Images elements make you appear more attractive and legitimate.
On the backend, the platform showcases insights such as "taps on this location" and "what people searched for in this location." This allows businesses to optimize their place cards for better audience reach.
Connect Your Business to Your Customers
Manage, measure, and magnify your business with Apple Business Connect so you can put yourself on the map. iOS users are a loyal folk, so integrating your business into the Apple ecosystem allows you to amplify your visibility and reach these customers. Sign-up is easy – then all you have to do is tell people why they should visit your business by showing them how amazing you are.
Interested in more industry insights? Get news, updates, and more straight to your inbox with the Kika newsletter. Subscribe now to keep up!