The Digital Landscape is Changing: How Marketing Agencies Can Keep Up
The only certain things in life are taxes and change.
Digital marketing has never been static – it changes and adapts as people themselves change as well. Different generations and demographics have their own preferences, beliefs, and material needs. Sometimes the transformation is gradual, like a slow-coming tide. Other times, extraordinary forces rapidly alter our tried-and-true approaches.
What's different in the digital marketing landscape, and where could it go in the future? And in response to all this, what can marketing agencies do to keep up – or better yet, stay ahead of the storm?
Shifts in Digital Marketing in 2023
Consumer behaviours are evolving, and that's shaping the changes in the digital marketing landscape. New technologies and platforms are also causing shifts in online advertising and marketing.
Growth of social shopping
In 2016, Facebook launched its Marketplace so people could buy and sell locally. Then in 2019, Instagram introduced its in-app store. Now, TikTok has unveiled its own Shop, a feature where merchants, brands, and creators can sell directly through the app via videos, LIVEs, and showcase tabs.
Globally, experts expect the social shopping industry to hit $1.2 trillion by 2025 – growing 3x as fast as traditional commerce. The driving forces are millennials and Zoomers (and in the future, Gen Alpha) as they dominate the social media landscape.
Shifting eCommerce to social media makes customer journeys more "instantaneous." Consumers can see a product or service on Instagram or TikTok then immediately click on it, view the details, and make a purchase – all without leaving the app. Paid ads accelerate this further, especially when algorithms target users with ads tailored to their interests and live feed content.
Increased eCommerce
While the COVID-19 pandemic escalated the growth of the eCommerce industry, there was already a notable shift from brick-and-mortar stores to digital shopping. Globally, the eCommerce market has more than tripled in the last 7 years. Over half the worldwide population is on the internet – and more and more of these people are buying their products online.
Some sectors that have benefited from this eCommerce increase include groceries and essentials, recreational goods, home furnishings, and even medical products. Small businesses have also made the leap to online stores thanks to the low barrier to entry.
AI and machine learning
Science fiction is slowly but surely becoming reality as tech companies race to create the next "big thing" in artificial intelligence (AI) and machine learning (ML). Developers are constantly refining their programs to generate more sophisticated content. And these programs are beginning to transform many industries – including marketing. 
There are the obvious applications, such as leveraging ChatGPT and Jasper.ai to support content creation. Google, for example, is leveraging AI in its Performance Max tools. The AI will automatically decide where, when, and how to deliver these ads across all Google Ads platforms.
New search engines and tools
Brands are beginning to diversify their marketing channels. Industry giants such as Google, Apple Maps, Instagram, and Facebook are still standing – but there's room to branch out. 
For example, some digital marketers are looking into alternative search engines such as DuckDuckGo, which has the 2nd-highest market share in the US. Microsoft Ads is in charge of the ads campaigns on its search network, including Bing, DuckDuckGo, and Yahoo.
Moreover, there are new tools for advertisers to take for a test drive. Apple has recently released Apple Business Connect, while Google has introduced Performance Max.
Micro-influencers
Influencer marketing has flourished in recent years, especially on platforms like Instagram, TikTok, and YouTube. Alongside this comes the rise of micro-influencers – defined as accounts with 10,000–50,000 followers. And for small businesses who can't afford to partner with people with followings in the hundreds of thousands, micro-influencers present an opportunity for growth.
About 61% of consumers trust product recommendations from people they know or people they follow on social media. Partnering with micro-influencers affords businesses the ability to increase their brand reach and drive sales. This is especially useful as marketing becomes more niche – brands can then collaborate with micro-influencers who appeal to that specific audience.
Strategies for Marketing Agencies to Remain Competitive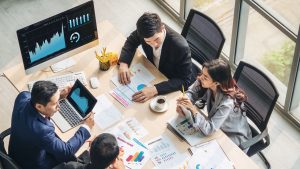 So the digital marketing landscape is changing at a rapid pace. Brands need new or innovative ways to reach their markets. How can a marketing agency remain competitive and continue delivering results?
Leverage emerging tools
Chatbots can support customer access to brands, and in turn, improve a brand's responsiveness. And chatbot software is largely based on AI. For businesses that receive significant traffic to their websites and eCommerce stores, it could be worth offering to integrate chatbots to transform their online presence.
Of course, agencies can leverage AI and ML for more than just your marketing services. Programs such as ChatGPT can cut down on administrative tasks such as emails, website text, and other written short-form content. There are also ways to integrate AI into data collection and analysis.
Target niche markets
As the eCommerce and digital landscapes change, agencies should explore services in more niche or emerging markets. Think Web3 and VR experiences, or creating interactive content on websites. Industries to focus on include healthcare, sustainable initiatives, and clean energy.
These markets may be niche, but that means more opportunities to connect with clients who might not have considered the value of digital marketing for their industry. Show them that there's room for growth and how you can deliver the results for them.
In relation to this, agencies may want to choose their areas of expertise wisely, so they can position themselves as authorities in that industry. If you can catch a wave early, you'll find yourself becoming the partner of choice.
Offer services on alternative platforms
Every marketing agency knows how to manage advertising and SEO content on major platforms. Google Ads, Apple Business Connect, and social media management are par for the course. If you really want to stand out from the competition and stay ahead of the curve, offer services on alternative platforms.
Mastodon, for example, doesn't offer paid advertising or algorithms – but it's a great way to find a niche market and reach your audience with valuable content. Instead of selling to users, a marketing agency will pivot to audience engagement and boosting SEO content to increase awareness of their clients' brands.
You may also want to consider podcast marketing. More and more people are using podcasts as background noise while working, as ways to unwind during their free time, or even to keep updated on news and insights. 2021 saw podcast advertising revenue break the $1 billion mark, a trend that shows no signs of slowing down
Highlight video and visual services
Video assets remain highly valuable, as social media platforms continue to reward short-form content. When pitching to potential clients, or discussing new strategies with existing ones, highlight your video and visual services. If you have a library or portfolio of relevant content, put that front and centre.
Attention spans are short – businesses have limited time to get consumers to notice them. Agencies will need to get creative in order to Reel people in (pun intended) and encourage them to want to learn more.
Optimize your data use
There is, indeed, such a thing as "too much" data. Not every metric is necessary or value-adding, and if you spend too much time tracking a wide range of performance indicators, you'll just stretch your team thin. You might also overwhelm your clients with information they don't even need to know.
Moreover, data can provide insights into past performance, but it can't reliably predict future success. The past few years have shown us that things can change all too quickly, leaving everyone (including marketers) scrambling to adapt. Relying too heavily on data and analytics can blind you from new perspectives and prevent you from exploring new strategies.
Keep tabs on digital trends and policies
Any agency worth its salt can sense a change in the winds of digital marketing. This goes for everything from emerging social media platforms or new content policies implemented by various platforms (have you updated to GA4 yet?) If you're not offering services on the most updated platforms and apps – and if you're not chasing the latest marketing trends – then you're already behind.
Moreover, add services to your roster that will help clients keep up with industry trends. That's anything from podcast marketing, to influencer partnerships, to newsletters (and this blog post).
Emphasize the human aspect of marketing
As technology advances and new devices emerge, it's more crucial than ever to emphasize the human aspect of marketing. Customers are human beings, and they will connect best with other humans – not faceless establishments or machine-generated entities.
Marketing agencies should aim to humanize the brands of their clients and find ways to form authentic relationships with their respective audiences. This gives your clients a better chance at retaining customer loyalty and engagement in the long term.
The human element will also always have the advantage when it comes to creativity and originality. Machines and software can't replicate the way the human brain makes connections and comes up with out-of-the-box ideas. Even if you are leveraging tools such as MidJourney or Jasper.ai, without people in the driver's seat, it's just not the same.
Always Forward, Never Back
There's no point in digging your heels in and staying with what's familiar. If a marketing agency wants to thrive – and not just survive – it needs to keep up with the ways in which the digital marketing landscape is evolving. But no matter what strategies you employ for your clients, the goal remains to enhance their brand's online presence and give them a competitive edge.
Want more industry insights to put you ahead of the pack? Subscribe to the Kika Insider newsletter for more pieces like this, delivered straight to your inbox.