Big Mood: How to Humanize Your Brand
Aleida Brink
June 24, 2023
13 Minutes
A brand is built on many elements – but none more important than the people behind it.
Humans are social creatures, and we're made to connect with each other, not with corporations. That makes it essential for you to make your brand feel more "human" to your market. A good brand is relatable and accessible, fostering an emotional link with its customers that leads to loyalty and appreciation.
Think of your favourite brands and why you love them. You'll notice they tend to add a human touch to their branding strategies, whether that's featuring their staff or relating to their target audience. Instead of feeling boring or indifferent, they resonate with you.
Humanizing your brand is key to long-term business growth and success. Learn why it matters and how to make your brand feel all too human.
What It Means to Humanize Your Brand
Businesses are entities, not persons, but that doesn't mean you can't integrate human elements in your branding. That's what it means to humanize your brand – making your brand personable and relatable at every touchpoint, instead of some distant corporate establishment. 
When you emphasize the people behind your brand, the causes you support, and the value of your customers, you are more authentic and reachable. By adding a human touch to every aspect of your brand's presence – from advertising to communications – you can foster deeper relationships with your audience.
Why Humanizing Your Brand Matters
Your brand might not be a human being, but your customers certainly are. And humans connect more with humans – or organizations and concepts that distinctly feel like they're made by humans. The best and most effective way to establish a connection with your customer base is to humanize your brand.
People often perceive businesses through a cynical lens, believing they're just out to sell them something. It's easy for organizations to feel robotic, like a cold and faceless entity, and therefore unrelatable. In order to reach your customers and form a relationship that transcends a transactional one, you'll need to develop a brand that feels approachable – like it has its own personality.
When your target audience feels a personal connection to your brand, they're more likely to become loyal and trusting. This leads to better customer retention and brand awareness. Moreover, presenting your brand authentically and incorporating human elements makes you more memorable and helps you stand out from the competition.
By humanizing your brand, you also build credibility and showcase transparency. Businesses are more trustworthy when they are open, honest, and willing to engage in genuine interactions with their audience. It also shows that you value your customers beyond profits and metrics.
How to Humanize Your Brand
Branding is crucial to the success of any business. But while you're developing your visual assets, website pages, and advertising strategies, you should also be thinking about ways to add a human touch to your execution. Here are some strategies you can implement to make your brand feel more relatable.
Foster good company culture
Authenticity can never be just on the surface. If you're standoffish with employees and maintain rigid corporate hierarchies, it'll show through, even if you don't publicize it. Happy employees will feel more motivated to go above and beyond in their work, and it will bleed into your customer-facing aspects.
Good company culture comes from the ground up. Your business should be inclusive of all genders, sexualities, races, and neurodiversities. Employees at all levels should feel welcome and valued, and should not be afraid to speak up. Managers and executives should lead by example, encourage engagement and collaboration, and foster a sense of teamwork and community. And of course, promote work-life balance for employee well-being.
Feature people behind the business
If all you present to customers is advertising and sales, you'll struggle to shrug off the cold, corporate perception.. One of the strongest ways to humanize your brand is to feature… Well, the actual humans behind it! Put your employees in the spotlight so that people can put a face to your business.
A strategy you can use is to feature your employees of the month. Alternatively, highlight staff achievements or team events, or wish them a happy birthday. Take behind-the-scenes videos for your social media platforms and have a dedicated website page for your team members. Even sharing funny moments in the office or day-in-the-life snapshots will add more personality.
Also – make sure to use photos of your real staff. Stock photos won't cut it, and will just make you look more inauthentic and fake.
Have social and community managers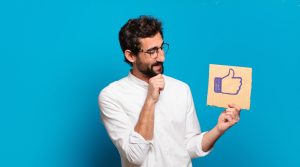 Your social media strategy must include having a dedicated manager. They're not just in charge of content planning or scheduling posts; they're there to engage with your followers. They take on your brand's personality and incorporate it into your social media accounts, whether that's in standalone posts or responses to people. Regularly engaging with your followers shows that your brand is seeing these people instead of just foisting content on them.
Moreover, if you host community discussions or events anywhere – a Discord server, a Reddit forum, even a local event – you should have community managers (or moderators). They also represent your brand to your community and add a more human touch to your platforms.
Leverage user-generated content
If you provide quality products or services, people will absolutely talk about it. They'll tell their friends and family, wear or use things proudly, and of course – post about it on social media.
User-generated content is a powerful tool for building social proof and showcasing customer appreciation. Like and engage with customer posts by thanking them or sincerely responding to their critiques. Ask permission to repost images or videos of reviews. Consider creating a hashtag that customers can use to engage with your brand on social media. You can even hold contests to encourage user content – just offer fair rewards!
Meet your audience where they are
Start by speaking your audience's language. Not necessarily literally (although you should offer multi-language support), but talk to them in ways they can relate to. No corporate jargon or fluffy sales talk – your communication should be clear and understandable.
If your target audience is mostly millennials or Zoomers, you can use memes and slang (correctly). For B2B companies, speak professionally and concisely. But don't make yourself inaccessible and condescending, which will just turn people off. Think about how you'd speak to your customers in real life and translate that to all your communication channels.
Another way to meet your audience is to support causes that matter to them. Pledge a percentage of profits to organizations or charities that aid in relevant social issues. Incorporate eco-friendly business practices such as sustainable production or biodegradable packaging. Promote diversity in both your employees and your marketing.
Support over sales
Your sales numbers are important, but your customer service will keep people coming back. Offer personable and authentic support for your customers before, during, and after sales. This entails actions such as:
Responding quickly to customer issues and questions

Having reliable availability

Addressing customer concerns across multiple channels (email, website chat widgets, social media)

Sending post-sales follow-ups

Creating dedicated channels for feedback
The idea is to show customers that you value them beyond the transaction and profit. As a business, you want your customers to have a positive experience, and support is a large part of that. You'll prove to your audience that you care about them, which in turn will drive their loyalty.
Personalize the customer experience
There are a lot of ways to make your customers feel important. Send welcome letters to first-time buyers, and appreciation letters and offers to regulars. Small business owners can send personalized thank-you cards or freebies with purchases for a friendly touch. 
On the other hand, if you're a B2B company, you can customize the onboarding process by having the client's account manager provide a welcome package or letter tailored just for them. 
Embrace criticism and respond accordingly
No company is perfect – you're bound to slip up and make mistakes. Instead of aiming for perfection or avoiding accountability, focus on the actions you take in the aftermath. Publicly acknowledge the fault and take the time to create your apologies, which should own up to your errors instead of shifting the blame to those affected. Then internalize the situation and take active steps to change for the better.
Meanwhile, if customers come forward with criticism of your products or services, listen to what they're saying. It's true many people complain for the sake of complaining, but many other people have good intentions. Take that feedback and look for ways you can improve and address those issues.

Your Brand is Built on People
The biggest element that goes into humanizing your brand is authenticity. Ultimately, this strategy is meant to generate traffic, leads, sales, and customers. If you want your business to appeal to people, you have to relate to them.  But that doesn't mean the human elements of your branding should be forced or faked.
Think beyond the marketing and beyond the transactions. If you present your business sincerely, people will respond in kind. It will build your credibility and prove that your customers are right to trust you.
Brands are built on people: your employees, your customers, and yourself. Keep that in mind and humanizing your brand will come easily.
Set the tone for all your interactions with customers with relatable, accessible branding. Kika's experts provide brand development services that resonate with your audience and create real, lasting relationships. We'll do more than just create your brand strategy – we'll make you feel real.
Check in with us for a free consultation today!