Like and Share: How Social Media Has Changed Brand Marketing
Aleida Brink
April 30, 2023
23 Minutes
Hands up if you remember ranking your top 8 connections on MySpace.
For many of us, social media has long become an integral part of our lives. It's how we keep up with friends and family, read breaking news and thinkpieces, and view videos of cute pets from the 100 "pet-fluencer" accounts we follow. Social media platforms are also the spaces where we are exposed to brands, businesses, or personalities and their marketing campaigns.
When the Game of Thrones finale premiered on a Sunday night, its official #GameOfThrones hashtag was used over 4 million times. But the Game of Thrones finale came out in 2019, a full 13 years since Mark Zuckerberg launched classified ads on Facebook. 
How did social media become an essential channel for marketing, and how have things changed since its humble beginnings?
The Social Disruption: Evolution of Social Media Marketing
Social media platforms began emerging in the early 2000s, with sites such as MySpace, Facebook, and Friendster. They attracted users due to the ease of signing up – needing just an email address and internet connection – and the ability to connect with friends, family, and even complete strangers on the web. 
In 2006, both MySpace and Facebook launched ads on their platforms. Facebook founder Mark Zuckerberg called the ads a "completely new way of advertising online" and claimed that marketers could use "the social graph in the same way" as users – meaning they could also take advantage of the network opportunities that social media provides.
Zuckerberg's platform set the trend for brands using social media for marketing. When Twitter (2006) and Instagram (2010) launched with explosive growth, brands flocked to the platforms. Meanwhile, LinkedIn (2002) became the standard for B2B marketers given its primary focus on business networking.
How Social Media Changed Marketing
The advent of online advertising threw the doors wide open for brands and businesses. Where they were previously limited to newspapers, magazines, and television, the internet brought new opportunities – and with it, new strategies. Brands had more flexibility, especially given the "shareability" of their ads and the audiences they could reach.
Moreover, unlike traditional offline marketing, brands could directly access and collect consumer data and performance metrics. It's almost impossible to quantify how many people perceived a specific ad in a newspaper, but online advertising provides businesses with metrics such as click-through rates and viewer counts. These stats allowed marketers to evaluate strategies, develop tactics, and target user bases in ways they never could before.
Within online marketing, social media is its own ballgame. Unlike other online channels such as SEO or email marketing, social media is driven by unique factors: connection and interaction.
SEO, email marketing, and PPC tend to be one-way streets – brands deliver them to consumers, but there's rarely reciprocal engagement. With social media, however, brands can engage with their audiences in a variety of ways, such as comments/replies, sharing user-generated content, and "We Answer Your Questions" videos.
There's also the real-time factor to social media that isn't present in other channels. Interaction is instantaneous without any associated cost, and those interactions can be shared by other consumers. Blogs take time to index and emails may sit in inboxes, but social media posts go live in a second – and shares are just a click away.
Then there's the broadness of social media. SEO content like blogs only come up for people searching for specific topics, while emails only go out to subscribers. But social media posts can reach consumers outside of a brand's existing audience, especially if the existing audience sends a post to non-customers. A business can easily increase awareness among consumers with little effort on their own part thanks to a social media platform.
The Influencer Effect
Another way social media has changed the landscape of marketing is through the emergence of "influencers." Prior to social media, brands would use endorsements from celebrities and other established personalities to advertise their products. But a combination of social media and affordable media technology (such as video editing software and video cameras) gave "regular" citizens the ability to make their own endorsements.
The growth of platforms such as YouTube and Instagram gave rise to popular social media personalities called "influencers." They became their own tier of "celebrity," earning high follower counts and large audience reach. Brands cleverly began tapping into these audiences by partnering with influencers for sponsored content, where the influencer would showcase a product or service to their followers. 
In 2021, data showed 49% of consumers relied on influencer recommendations for purchases. Meanwhile, 51% of marketers say influencer marketing helps with customer acquisition.
Notable influencers include James Charles, PewDiePie, and Kylie Jenner.
User Generated Content
You may not have realized it, but you've likely done marketing for your favorite brands – at least indirectly!
User-generated content (UGC) refers to original content created by customers for specific brands, then published on social media or other platforms. UGC can take any form: images, videos, testimonials, reviews, and more.
Unboxing videos on TikTok, Instagram posts showing off products, and tweets reviewing new items are all examples of user-generated content. UGC can come from any customer, but is particularly prevalent among loyalists who are enthusiastic about sharing their passion for the brand they love. Sponsored content (such as influencer brand partnerships) also count.
UGC is crucial for brands since it elevates their authenticity and trustworthiness. Seeing posts from fellow customers reassures buyers of the quality of the product or service that interests them. In fact, customers are 2.4x more likely to believe the authenticity of a user-generated post versus content from the brand itself.
One of the first high-profile campaigns on social media came from beverage giant Coca-Cola – an ad campaign called "Share a Coke." For the Facebook iteration, users could create their own custom Coke cans with their own names. The campaign was so successful that the Coca-Cola Facebook page saw a 39% increase in page likes.
"Share a Coke" is just one of many examples of UGC campaigns from brands, but it highlights just how effective this strategy can be. Now, more and more brands are leveraging user-generated content for marketing since it's cost-effective and flexible, and fosters a stronger connection with their target audience.
Exhibit A: Viral Social Media Campaigns
Not every social media marketing strategy catches on, but once something goes viral – it can spread over any and every platform like wildfire. Even something as simple as an egg can take over the internet under the right circumstances. Here are some examples of marketing campaigns that succeeded at hitting those heights.
Barbie Movie
In 2019, Mattel brought in Greta Gerwig and husband Noah Baumbach to lead production of the Barbie movie – something that had been in planning for a decade. Then in April of 2023, the Barbie movie Twitter account announced its full cast in a social media marketing campaign that has gone hugely viral.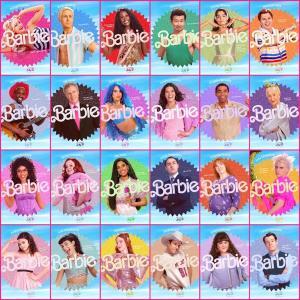 From Rotten Tomatoes
The account launched BarbieSelfie.ai, an image generator that allowed anyone to upload a selfie and style it like the Barbie cast posters. And it worked.
Barbie's marketing strategy took social media by storm. Users and brands everywhere began generating images, using either their own selfies or photos of celebrities. Posts would garner up to hundreds of thousands of likes and thousands of engagements, each with their own "This Barbie is…" or "He's just…" caption.
The campaign was highly successful in part because it tapped into the nostalgia of several generations who grew up with Barbie and Ken. The Barbie doll is the best-selling children's toy in history, worldwide, and so the appeal is universal. It allowed users to directly engage with and insert themselves into the campaign in an easy way – just take a selfie and go.
Spotify Wrapped
The end of every year is a time for reflection, New Year's resolutions, parties… and your Spotify Wrapped.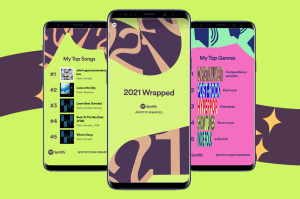 From SnappyMob Blog
Your Wrapped is a summary of all the music and media you've listened to on the platform for the past year. It ranks your top songs and artists, lets you know how many hours you've spent on listening, and "what your music says about you." It even generates a custom playlist of your top 100 songs.
In 2020, Spotify saw over 60 million shares from 90 million users for its Spotify Wrapped. And the campaign works primarily because it's all about the user – about your music taste, your personal favorites, your songs that resonate. Music is highly personal for people, and the Wrapped is an extension of that. 
Spotify Wrapped also encourages engagement with other people. People check out each other's Wrapped posts and comment about the top songs and artists, and poke fun about how long someone spent listening to a particular artist. The shareability of Spotify Wrapped is a significant driving force behind its "viral-ness."
ALS Ice Bucket Challenge
In 2014, TV anchor Matt Lauer went onto NBC's The Today Show and dumped ice water all over himself at a challenge from Greg Norman. That brought the "Ice Bucket Challenge" to mainstream audiences – a challenge in which participants would have a bucket of ice water poured over their head.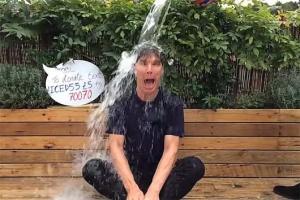 From MND Association
Previous iterations of the challenge simply had people donate to a charity of choice. But in 2014, golfer Chris Kennedy issued the first documented challenge linked to amyotrophic lateral sclerosis (ALS). Also known as Lou Gehrig's disease, it causes loss of neurons that control voluntary muscles and movement. From there, the ALS iteration spread – beginning in Boston following the ALS diagnosis of minor league baseball player Pete Frates.
Thousands of people, from regular citizens to celebrities and even politicians, participated in the challenge. Former President George W. Bush, legendary athlete Lebron James, popular celebrity Benedict Cumberbatch, and even children of esteemed physicist Stephen Hawking all posted videos to social media.
The combination of competitiveness, charity appeal, low barrier for entry, and social media exposure led to some 17 million videos on Facebook alone. In the end, the Ice Bucket Challenge raised $115 million in donations from August to September 2014 alone, when the challenge had peaked.
Apple #ShotOniPhone
iPhones have a reputation for their impressive cameras, and Apple leaned on this with their #ShotOniPhone campaign. The brand started the challenge in 2014 to promote the launch of the iPhone 6 and has kept it up for 9 years. Just the Instagram hashtag alone has garnered 26 million posts, and it is one of the most effective and successful UGC campaigns on social media.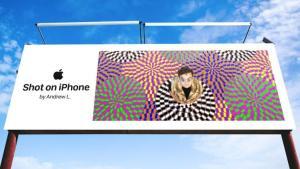 From Suchika Sunil
#ShotOniPhone establishes a solid two-way connection between Apple and its consumer base. Users could show off their photography skills and gain exposure through Apple's advertising – select images are displayed in Apple stores and on billboards – while Apple generates brand awareness and gains marketing material.
Apple vice president Tor Myhren said the purpose of the campaign was, in part, to advertise the iPhone cameras. Since Apple has developed a culture of loyalty and exclusivity around its brand (shout-out to Apple-onlies!), the campaign has helped entice buyers to join the Apple community.
Nayeon "Pop" Dance Challenge
Few industries successfully create viral campaigns on the level of KPop.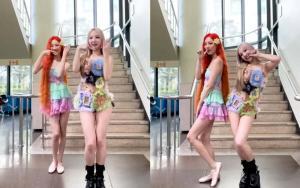 From All KPop
Twice is a globally-popular girl group managed by Korean music giant JYP Entertainment. Its "center" is Im Na-yeon, popularly known as Nayeon. In 2022, she released her debut solo EP "Im Nayeon," featuring lead single "Pop!"
The song features an upbeat, bubblegum beat with cutesy lyrics – and is accompanied by very fast, intricate choreography. The hand movements during the chorus were deceptively simple, but in reality required serious coordination to execute. JYP began the campaign by getting other KPop stars (such as SKZ's Felix and girl group ITZY) to perform the choreo alongside Nayeon. From there, it quickly spread to Onces (the colloquial name for Twice fans), then other KPop stans, then mainstream audiences.
The choreo eventually became a viral challenge on TikTok under the hashtag #PopPopPop. The trend has a total of 1.6 billion views on the platform, with many popular influencers joining in to show off their skills. The challenging nature of the choreo plus Twice's popularity contributed to #PopPopPop taking off.
The Egg
You may think that no one loves eggs more than Gaston, who eats five dozen of them every morning so he's roughly the size of a barge. However, the internet has proved that wrong.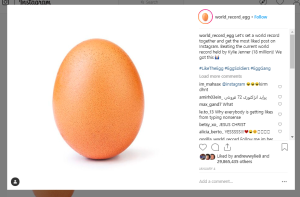 From Forbes
On 05 January, 2019, an anonymous Instagram user posted a simple photo of an egg against a white background. Its caption challenged IG users to set a world record and make the egg the most liked post on the platform – a record then held by Kylie Jenner (18 million likes). And oh, the internet delivered.
As of April 2023, the post has garnered over 59 million likes and 3.9 million comments. And its genius lies in the way it tapped into the "hive mind" of social media, the way users engage with a post because other users are engaging as well. It also became a commentary on the competitiveness of social media and how numbers have come to define "value" on these platforms.
The mysterious person behind the egg post called it an "interesting experiment" that aimed to beat a record with something incredibly basic. They also found it humorous that something so simple could overtake the carefully-curated posts of famous personalities.
Greggs' Vegan Sausage Roll
England's "national dish" is officially the chicken tikka masala, but sometimes it feels like the most popular food is a sausage roll from Greggs.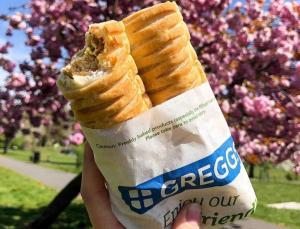 From Vegan Food & Living
The UK's largest bakery chain sells around 1.5 million pork sausage rolls per week, making it one of the best-selling food products in the country. In 2019, following a petition by PETA, Greggs launched a vegan version of its signature item. The vegan roll has 96 layers of crisp puff pastry made with vegetables and stuffed with Quorn filling. And it's been a huge success.
Part of its popularity came from its PR. Greggs debuted the food item during "Veganuary," a UK campaign that encouraged people to keep a vegan diet during January 2019. The bakery invited journalists to try the product, which came wrapped in pseudo-iPhone packaging. Then it posed a dramatic promo video styled like the launch of a new piece of technology.
Vegan lifestyles are rising in popularity throughout the UK, with 39% of British omnivores actively reducing their meat consumption. The vegan sausage roll has capitalized on this, contributing to a 13.5% sales increase for Greggs in 2020. It's even prompted copycat versions from other chains and bakeries.
Future of Social: Platforms to Watch
With social media so integrated into people's lives, it's only natural that more platforms begin emerging to compete with giants like Twitter and Facebook. Mastodon, for example, isn't new – it was initially released in March 2016, with the more stable version coming in 2023. But with Twitter services beginning to decline, the platform has become more popular, seeing over 10 million users and counting.
PIllowfort is another micro-blogging platform, which launched in 2017. It rose to prominence following Tumblr's infamous content strikethrough, which prompted creators and fandoms to move to sites with better filtering and tagging systems. Currently, new users need invitations from existing members or a purchased registration key for sign-up.
Then there's Lemon8, an app launched by ByteDance. The popular description for its structure is "Pinterest meets Instagram," with a focus on images and text (both short- and long-form). Lemon8 first launched in Japan in 2020, and grew to over 5 million active users per month in 2022. The app is available on Google Playstore and the Apple App Store.
Leveraging Social Media for Your Brand
Back in the 2000s, brands didn't have a good grasp on marketing in the digital sphere. Social media platforms were new on the scene and the concept of ads on these platforms was still emerging. Now, though, 14.5% of marketing budgets are dedicated to social media marketing. 
Things have changed in little over a decade, and will continue changing as the social media landscape evolves through new platforms and strategies. This makes it more crucial that brands keep up and maintain their presence on Twitter, Instagram, Facebook, and more – and hopefully, go viral for the right reasons.
Here at Kika, we're experts at social media strategies. As a full-service marketing communications agency, we have the experience to leverage social media to your benefit. We'll help you engage with your audience, grow your brand reach, and build your credibility. Elevate your social media marketing by partnering with us.
Book your free marketing consultation today!