Outsourcing Advice: Fractional CMO or Marketing Consultant?
Annika Panzini 
July 11, 2023
13 Minutes
Marketing is, for many, an ever-evolving landscape that's tricky to navigate. Different businesses have different needs and objectives, which means there's no universal strategy. Companies can't just take cookie-cutter approaches and implement them without consideration or finesse.
With no one-size-fits-all solution to marketing, brands need to develop customized and comprehensive strategies that fit their business model and goals. But they may lack the internal expertise, or they might want to have a specialist review their proposed campaigns.
In these cases, you might consider contracting either a Fractional CMO (chief marketing officer) or a marketing consultant.
So – what are the functions of each professional, and which one best fits your brand's marketing objectives? 
Fractional CMO VS Marketing Consultant: An Introduction
These two roles frequently come up in planning and strategy discussions for brand marketing. Companies looking to outsource aspects of their marketing efforts will likely consider one or the other. But what exactly is a Fractional CMO or a marketing consultant, and what functions do they perform? 
What is a Fractional CMO?
When outsourcing marketing, some companies hire Fractional CMOs – a senior marketing specialist to provide executive-level leadership. They are equipped with skills, experience, and a record of marketing success. A Fractional CMO covers a wide range of marketing needs, and is often present from strategizing and development to project execution.
Fractional CMOs are hired over a fixed time period, usually on a retainer. Because they work limited or fixed hours, they receive a smaller proportion of the salary that would go to an in-house CMO.
Companies may also hire a Fractional CMO as support for their in-house marketing executives. The Fractional CMO can act as project leader for a specific initiative, or as a consultant for the in-house CMO.
In other cases, a Fractional CMO comes in to lead an existing marketing team, for one or several projects. This helps the company achieve its marketing objectives while streamlining day-to-day operations.
Responsibilities of a Fractional CMO
A Fractional CMO shares similar responsibilities with a traditional CMO, just on a smaller scale. Their actual obligations will depend on the company, its marketing needs, and intended goals.
These responsibilities include:
Comprehensive marketing strategies

Brand development and management

Marketing audits

Organic and paid marketing initiatives

Marketing technology integration
CMOs, however, do not handle the functions of a marketing team or agency. Some responsibilities that a Fractional CMO will not undertake include content creation, email marketing, and social media management. Assigning these tasks to a CMO will lessen their effectiveness, since their efforts and resources would be better spent on more high-level initiatives.
What is a marketing consultant?
Like many other industry advisers, a marketing consultant provides guidance and direction to a company on its marketing objectives. They provide a brand with expert analysis, opinions, and recommendations to improve or adjust their strategies.
Marketing consultants may also review plans for new marketing initiatives and give advice on how to rework or expand different elements.
Companies often engage consultants for a specific project or for their particular field of expertise. They can provide an outside perspective or alternative solution for a marketing issue.
Scope of a marketing consultant
Consultants are in charge of marketing materials that will support new or ongoing campaigns. They have a fixed scope that rarely involves leadership responsibilities or execution of the actual project.
The scope of a marketing consultant includes:
Analyzing new or existing marketing strategies

Developing marketing strategies

Creating brand identity or style guide

Designing social media campaigns

Advising on workflows and processes

Monitoring ongoing campaigns
Key Differences Between a Fractional CMO and Marketing Consultant
There are many similarities and overlaps between a Fractional CMO and a marketing consultant. However, they do perform different functions, with different factors that companies should consider. This divergence will affect a company's decision on who to hire for its outsourced marketing.
Level of involvement
Fractional CMOs have a deeper level of involvement in a company's marketing initiatives. They can develop the strategies from scratch, manage and supervise the planning stages, and oversee the execution or implementation. A Fractional CMO is more hands-on since they act as a medium-term marketing executive, so they have several points of interaction with the marketing team.
Consultants, on the other hand, take a more hands-off approach. They are not positioned as a leader; rather, they come in to provide their expertise on a specific issue on a short-term basis. A consultant may not have many interactions with the marketing team, and will maintain some distance in order to focus on the data at hand.
Length of engagement
Companies engage a Fractional CMO on a short to medium-term basis, especially if they have involvement in multiple projects. A Fractional CMO will explore several options and offer different solutions, so they're usually contracted for anywhere between 6–12 months.
The average period of engagement for a Fractional CMO is 9 months.
For consultants, they will work per project on a more short-term basis. The length of their contract will depend on the complexity of the project they are advising on, but they are typically engaged for 3 months.
Marketing need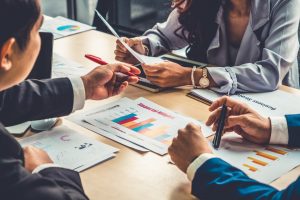 Companies that require solutions to a specific problem (or set of problems), a consultant is a better fit. They can help brands achieve a target outcome by identifying potential setbacks or areas for improvement. A consultant helps equip a company with the knowledge and tools necessary to achieve their marketing objectives, but does not tackle the implementation of that knowledge by themselves.
If your company finds itself in need of more general leadership and problem-solving, go with the Fractional CMO. They're the best fit for starting from scratch or ground-up initiatives, in order to explore a variety of opportunities. Do you need someone to build strategies, resources, and other comprehensive assets? A Fractional CMO brings more value.
Information vs execution
This is, again, a question of marketing needs. If you already have an existing marketing team who needs more in-depth or specialized information? Are you trying to branch out into initiatives that your marketing team has less experience in? A consultant can provide the answers needed to bring your team up to speed.
However, marketing consultants do not handle the execution of these solutions. Fractional CMOs are better suited to carrying out a strategy from end to end. They have a higher level of investment in a project but do not claim ownership over the concept or materials.
Compensation
A Fractional CMO works under a retainer, which is a sum paid upfront to secure professional services. They will commit to a specified number of hours for the agreed-upon level of pay, which will often depend on the expected deliverables involved in the project.
Consultants work under contract, with a Statement of Work or Scope of Work. Companies will outline the expected timeline with the required deliverables or targets. A consultant will have their own professional rates, often set per hour. These rates are based on industry standards as well as professional experience, demand for services, and overhead expenses.
Which Should I Hire for My Business?
This all comes down to what your business needs to achieve its marketing goals. Do you simply need a fresh perspective or objective opinion? Or do you require executive leadership and an overarching marketing strategy or system?
Assess the responsibilities that your company is looking to outsource and see which marketing professional best suits your needs.
Another factor to consider is your company's existing marketing structure. If you have a marketing executive leading a team, who are all coming up with a new campaign or evaluating an ongoing one, then they'll benefit from the expertise of a consultant. However, if you don't have an existing marketing executive or if you want to provide them with additional support, then a Fractional CMO will be of more help.
What About a Marketing Agency?
One other option when outsourcing your marketing endeavours is to hire a marketing agency. Neither consultants nor CMOs handle the nitty-gritty of marketing. They don't create resources and materials, manage campaigns on various platforms, or collect and filter data.
Marketing agencies, meanwhile, are full-service organizations. They offer a variety of solutions from planning and strategy to the creation of assets. A marketing agency can also manage your pay-per-click (PPC) campaigns and social media accounts.
Companies can hire marketing agencies for a broad range or specific set of services, in the short, medium, and long term. An agency can also provide consulting services, as their experts can review strategies and recommend improvements or adjustments.
Hands On, Hands Off: Marketing Leadership
Generic marketing solutions will get you nowhere – the only way to succeed in a saturated industry is with mindful planning and comprehensive strategy. To achieve that, you'll need to combine experience, expertise, and effort. Both Fractional CMOs and marketing consultants bring all three to the table, so it's just a matter of evaluating where your business stands and what services it needs to sustain growth over time.
Whether you need Fractional CMO services or marketing consulting, Kika has your back. Our qualified team of professionals can provide high-level marketing leadership or expertise and insights, depending on what your business needs at the time. Here at Kika, we tailor our approach to each client, using effective solutions to deliver optimal results.
Not sure about the best solution for your business? Book a free marketing consultation with us today so we can discuss!