Website Maintenance: Make the Most Out of Your Digital Toolbelt
Pippa Fen
July 29, 2023
15 Minutes
A website is like a car: it needs regular maintenance.
Companies build their websites for a definite purpose. That could be anything from selling their products to providing educational information. But all websites, regardless of purpose, require regular maintenance for security and performance.
You can't just set and forget your website and expect it to achieve its objectives. Let's get into why website maintenance matters and the strategies for that upkeep.
The Importance of Website Maintenance
When users visit a website, they decide how they feel about it in just 0.05 seconds. That's a staggeringly short amount of time to make a good impression. This means that brands need to build a well-designed website that's:
Easy to navigate

Well-designed

A positive experience
It's not enough to just build a website and leave it to run, however. Developers are consistently improving plug-ins and software, and technology is constantly advancing. Code can degrade, malfunction, or become obsolete. Websites can come under attack.
Without regular, concerted efforts to maintain a website, you'll soon find that people are clicking off – or avoiding your pages entirely.
Website maintenance is the process of ensuring a site is up-to-date and performing smoothly. It involves anything from ensuring functional links to updating content, plus general housekeeping such as back-ups. Without this, your website could slow down, suffer reduced conversions, or become compromised.
Core Aspects of Website Maintenance
There's a lot that goes into maintaining a website so that it does its job of retaining users and generating leads. Ask yourself as a brand – what is your website meant to do, and is it accomplishing that? Here are some core aspects to consider.
Website performance
Companies build websites with a goal in mind. Define that intent and make sure that the purpose is aligned with your branding – and do so continuously. You'll need to check and recheck that the website remains aligned with and relevant to your brand objectives.
What is your website meant to deliver? Is it to provide information or sell products? Are you regularly monitoring user interactions and following customer journeys? If you don't have measurable goals and metrics, you won't be able to optimize your site to ensure it keeps doing its job.
Some questions to ask yourselves:
Who is the audience for your site?

What should your website achieve?

What does the user data say?

Is there anything that needs changing?
Lead and sales generation
For B2C and B2B businesses that sell products or services, you'll need to make sure that the website is generating leads or conversions. And to do that, your website needs to be designed for easy user interaction.. Some examples of elements to support this include:
Forms and subscription sign-ups

Clear and relevant calls to action (CTA)

Optimized landing pages

Live chat services
Moreover, verify the information listed on the website, whether it's up to date and accurate. Elements like prices, terms of return and exchange, product/service specifications, and images should all be correct so that potential customers can make informed decisions about their purchase.
Page accessibility
Anyone and everyone should be able to use your website regardless of internet speed or device. This means your website should be well-designed, inclusive, and responsive. 
For example, how well does your site adapt to mobile device users? Is your font legible for anyone with visually impaired, or are there options to change page readability? What kinds of colours and visual elements have you included, and how will they impact disabled users?
If your website is usable only to niche users or is difficult to access for certain demographics, you may want to consider refitting your design.
Loading and response speed
If your website doesn't load within 0–2 seconds, you're losing out on sales and customers. With each additional second it takes, conversion rates drop by 4.42% on average. Take too long, and people will simply bounce.
Brands need to optimize their website performance and keep it optimized. Stay up-to-date with code standards, perform regular updates, and track activity reports. Minimize the downtime so you don't miss out on leads or develop a reputation for poorly-performing pages.
Additionally, view your website from a third-person perspective to see if it's working as intended without any glitches. Uninstall any old software, delete obsolete code, and make sure your technologies are the latest release versions. All of this can improve page loading and response speed, and create a better user experience.
Costs
While businesses would love to include all the best features, that's just not realistic for most people. Brands will have a specific budget for their website, which will determine the design and functionality. That budget includes the cost to keep the website online and running – and, of course, maintaining it throughout its lifespan.
Finding the optimal budget will guide your brand's strategies during website development and marketing. It will also organize the timeline for executing your website's intentions and objectives. If you want more elaborate or high-level features for your site, be ready to sacrifice other aspects to balance out the cost.

Maintain Your Website: 9 Strategies
Once you've launched your website, you'll need to monitor its performance and functionality. This allows you to continuously improve the user experience and prevent issues from cropping up. Here are 9 different strategies for website maintenance.
#1 — Update security
Web dev companies, website hosting platforms, and other relevant companies will release security patches on a regular basis. These are meant to address any vulnerabilities in the software and protect the data of both users and website owners.
It's essential for brands to check for any upcoming or ongoing updates and install them once they're available. This will keep your site secure and protect it from any outside attacks.
#2 — Produce content
This means anything from blog content to product descriptions. All website content should be optimized, relevant, and currently accurate. Outdated content will negatively impact your brand's reputation and turn users away from staying on your web pages. It will also affect your website's organic search rankings and performance.
If your business publishes blog posts, it's worth going back to previously-published content and refreshing or removing it. For products or services, optimize descriptions so they provide the correct information. And double-check landing pages so that your company descriptions are still aligned with your branding.
#3 — Back up and create recovery points
There's always a risk of a server crash or an outside attack when you're hosting a website online. Much like you should always back up your computer files (gentle reminder!), companies should regularly back up their websites. Planning ahead for potential disasters means you can quickly recover and get your website up and running.
Back-ups also prevent data loss, so your performance won't suffer as much. They also allow businesses to restore their websites in the event of a hack or data corruption.
#4 — Monitor performance
Those of us who own pets know that keeping an eye on them can prevent them from doing something naughty. In the same way, monitoring your website lets you identify potential problems before they come up, or as soon as they happen. Your dev team can then take the appropriate steps to fix the issues and keep the site running smoothly.
#5 — Manage users
For websites that collect user data or allow users to create accounts, you'll need to manage this information. In terms of user data, make sure your business is adhering to the laws regarding privacy, protection, and collection. Keep your data storage sites secure.
Regarding user accounts, monitor activity and access. You might consider setting a time period for inactivity and deleting any accounts that reach the threshold, as well as bots and spam accounts that crop up. 
#6 — Test accessibility
Any responsive or accessible design should be tested before, during, and after coding and launch. View your website on multiple devices (desktop, smartphone, tablet, etc) to make sure users can view and navigate it without trouble. See if you can have volunteers with disabilities access your website and request their feedback. And of course, make sure your site loads properly even for people with slow internet connections or those on mobile data.
#7 — Track SEO metrics
Search engine optimization (SEO) is a crucial part of any online marketing strategy. 53.3% of all website traffic comes from organic searches on platforms like Google. Brands should be tracking metrics such as:
Organic search ranking

Backlink quality and quantity

Website traffic

Clicks and impressions

Bounce rate
Your website's SEO performance is one key way to track progress and success. It can also tell you how to adjust your SEO strategies to improve that performance or address issues.
#8 — Install plug-ins and themes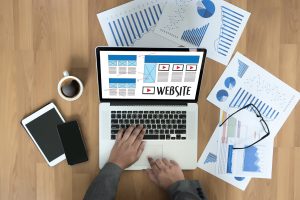 Many website hosting platforms allow plug-ins and themes to extend your site's functionality. WordPress has plug-ins such as Yoast SEO which improves search engine performance, or Smush for optimizing and compressing images to improve loading speed.
Meanwhile, themes are essential to the impact your website makes on users. 94% of website first impressions are design-related, so you can't just optimize the visual appeal and appearance alongside the content. If your pages look cluttered or disorganized, users will simply leave.
It's also well worth keeping an eye on web design trends so you can create attractive pages to retain users for longer.
Also – keep those plug-ins and themes updated!
#9 — Keep an eye on uptime
There's no point in having a website if people can't access it! Some downtime for maintenance, updates, or hosting issues is understandable, but your uptime should be as close to 100% as possible. If you're planning to schedule some maintenance, warn users well ahead of time – and leave a notice on your site that you'll be back soon.
For downtime that's out of your control, monitoring for errors or issues will let you take corrective action to fix things.
Make the Most Out of Your Website Now and In the Future
Proper website maintenance allows companies to make the most out of this valuable asset. It keeps the site functioning and ensures users have a positive experience, which leads to better search engine rankings and performance. Maintenance also means companies can protect their data and that of users, increasing their customer's trust.
If you only have 0.05 seconds to make an impression, then maintaining your website will give you the best chance you'll ever get.
Increase your odds of website success by keeping your websites secure, relevant, and functional. Kika offers website maintenance services so you can leverage your online presence. Stay ahead of the competition while leaving the nitty-gritty to us.
Second-guessing things? Get a free marketing consultation for some expert advice with no commitments.