7 Web Design Trends for 2023
Pippa Fen
April 1, 2023
9 Minutes
A new year has started, and with that comes new web design trends. These trends are often a reflection of emerging technologies and cultural fads, alongside the impact of both on society. Sometimes they're a look into the future of website design and engagement, while other times they're a nostalgic callback to past layouts.
Web design and development has come a long way – with exponential progress – since the internet first became mainstream. We've gone from kitschy designs to minimalism and everything in between. But new technologies have given designers more freedom in terms of elements they can include and styles they can try out.
Looking for inspiration or need a starting point to keep your site's design current and connected with modern audiences? Here are some design trends for website design this year.
Top 7 Web Design Trends for 2023
There are plenty of elements and styles that are gaining popularity as 2023 opens. Some have carried over from the previous year, while others are new in fashion. These are seven of our picks for the top web design trends in 2023.
#1 – 90s and 00s aesthetic
There's been a revival of the Y2K aesthetic in different industries, from fashion to art. And that trend has carried over to web design, with different sites employing the text-heavy, simple layouts of the early internet days. Not only is it readable and fast-loading, but it creates a sense of "relatable"-ness with visitors given the nostalgia of the look.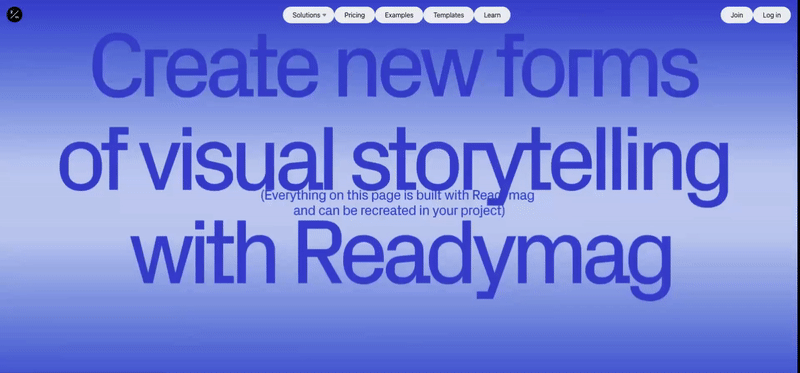 From readymag.com
Late 90s/early 00s sites relied more on text than images (due to loading speed) with plenty of white space. There were also simple, sometimes pixelated fonts in sans serif or monospace. Follow the "throwback" trend with some Y2K-inspired designs for your website.
#2 – Interactive elements
Interactive elements on your website – such as clickable polls or for-fun animations – are a great way to increase engagement and retain visitors. You provide entertainment while making your brand and site memorable.

From Daniel Gamble
Say you're a fashion brand – you can have a rotatable model wearing the clothes. Or if you're a real estate agent, you can have a mortgage or rent calculator on your website. These all add value to your website, and some options even allow you to collect and track data that you can use to learn more about your target audience.
#3 – Inclusivity and accessibility
"Inclusivity" means taking into account different perspectives and experiences, such as those based on age, gender, race, sexuality, disability, culture, and even atypical mental function. An inclusive design is accessible and usable to users of all backgrounds, with accessibility built into the site from the get-go.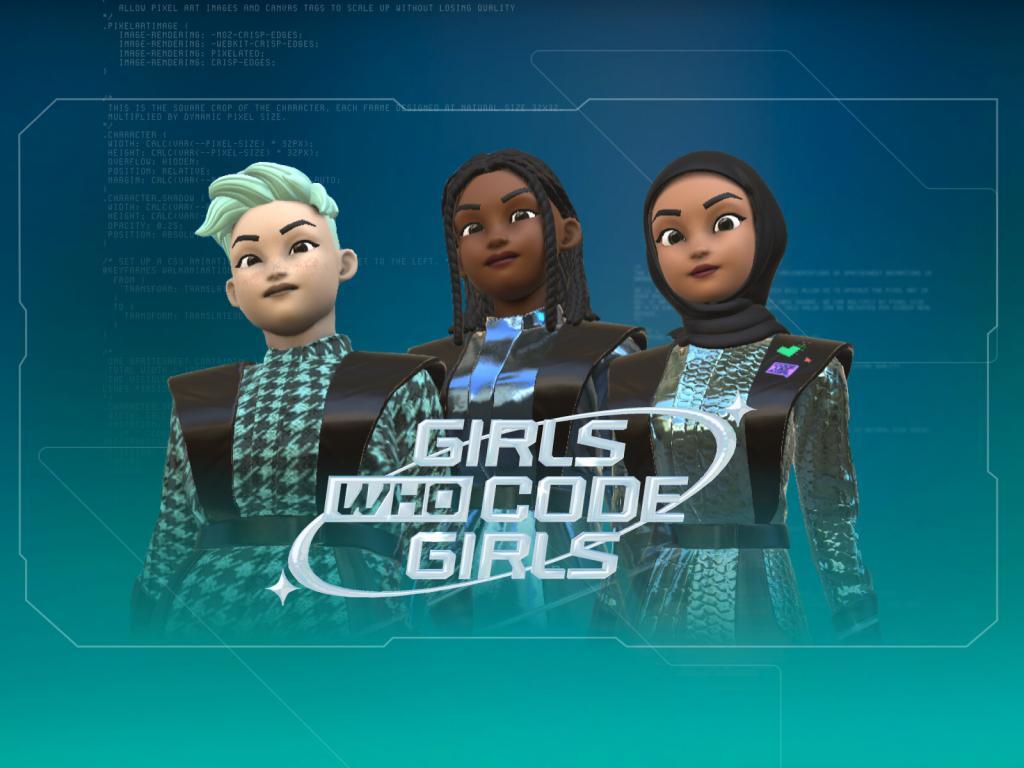 From Girls Who Code Girls
Most significantly, your design should be flexible – such as providing a switch between dark/light mode, the ability to change text size, alt text for images, good contrast, and more. Then when it comes to language, be mindful to use universal terms that do not exclude or discriminate against any specific experience.
#4 – Parallax scrolling
This has been in use for a while – the parallax effect applied to website scrolling. It's an animation technique where elements in the foreground move differently to those in the background, which creates a sense of depth.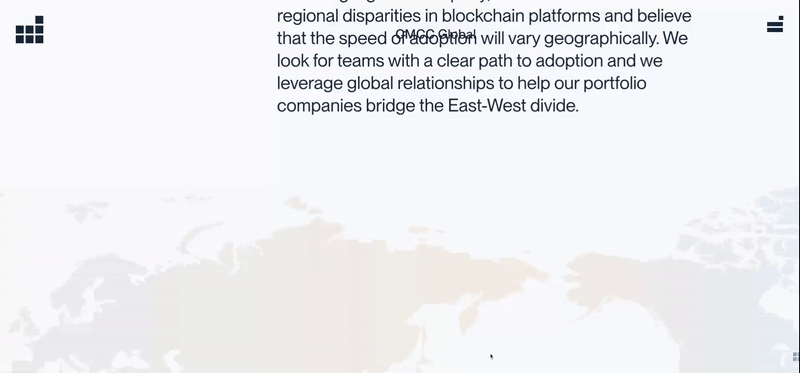 Via CMCC
This design technique is most applicable to full-width elements such as images, videos, and textures. It makes a page more dynamic and engaging, increasing your chances of retaining and converting site visitors. 
#5 – 3D visual experiences
2D and flat illustrations have dominated design trends in recent years, so 3D design stands out from the crowd. Advances in technology have made 3D rendering and embedding easier, and a more widely-available option for adding visual interest to a site.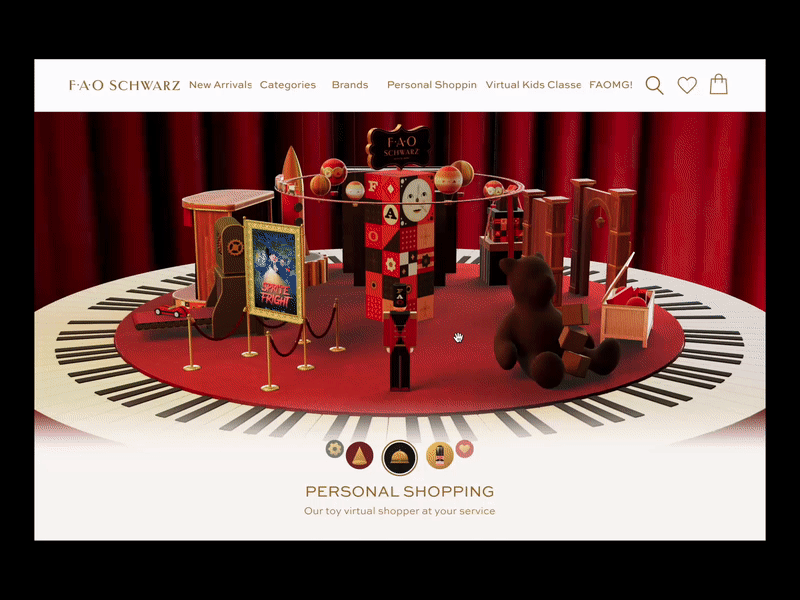 From FAO Schwarz via awwwards
Site designers and developers can add interactive 3D elements to certain pages, or use 3D tech to allow a user to immerse themselves in a specific experience. For example, co-working companies can allow "virtual tours" of their spaces, while architecture firms can let users play around with a 3D model of a project.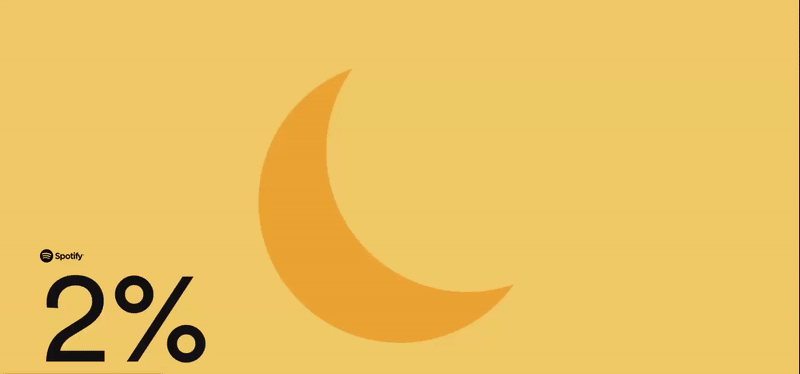 From Astrology Club by Spotify
#6 – Animations
This can be anything from a quirky loading animation to micro animations in the website background. You can use a micro animation to add some playfulness to a hero image or add suspense to a product reveal. They can also help guide a user through the different sections of a lead generation landing page and make absorbing content more intuitive.
One key factor in using micro animations is that they should feel organic. Don't make users feel overwhelmed by movement or feel like they're being forced to follow a certain action. This makes engaging with your page feel more natural and encourages positive emotions towards your brand.
#7 – Thumb-friendly mobile navigation
With more and more people preferring to shop, browse, and act through their mobile devices, it's more crucial than ever to optimize your website design on mobile browsers and apps. Most people prefer tapping and navigating via their thumb while using their phone in one hand, so your mobile experience should be geared towards making that a smooth experience for everyone.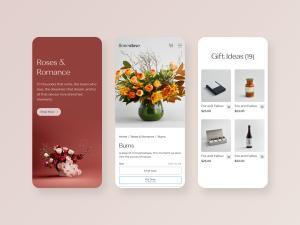 Mobile-responsive design by Flower Dose
This is especially significant for ranking on Google, since the search engine uses the mobile version of a website's content to index – called mobile-first indexing. Google's recommendations for a mobile-friendly site include responsive design, dynamic serving, and separated URLs.
Maximizing Web Design Impact
Trends are much more than just a style or feature that's become popular in mainstream culture – they connect us to different times or emotions, and encourage our engagement. Trends can inspire designers to create new layouts, compositions, elements – a unique aspect of web design that delights a user and captures their attention.
2023 is shaping up to be a year of user immersion and interaction. It's about making the site visitor an active part of their website experience. By integrating these types of elements in website design, you can further attract users and eventually convert them into leads.
Modern websites are coming to life with these design trends that allow users to interact and engage. And right now, there's no better way to experience the internet.
Hop on these trends by using industry-leading website design services. At Kika, we're up-to-date with the latest trends and technologies so we can build engaging, attractive websites that enhance your brand's image and generate more leads. Request a free consultation with us today!