How to Develop a Project Cost Estimation as a Marketing Agency
Duke Nguyen
August 16, 2023
10 Minutes
For marketing agencies, project estimates are a crucial part of any good strategy.
Often, a project cost estimation can make or break a project. It can determine whether a company chooses to proceed with a marketing agency, and the resources that an agency receives to execute their project. And of course, having the right budget boosts a project's success.
As a marketing agency, it's important to create an accurate and adequate estimate for your projects. But how to develop a project cost estimation to kickstart marketing success?
What is a Project Cost Estimation?
Simply put – a project cost estimation or budget encompasses the estimation of how much a project will cost, including all labour, materials, and equipment. The process involves defining a project's scope and estimating how much each task or resource will cost based on existing market prices.
Effective project costing requires careful planning, accurate estimations, and diligent monitoring. It is necessary to determine both allocated resources and budgetary constraints.
Why Having a Costing Estimate is Important in Marketing
A costing strategy allows a company to adequately fund its marketing projects, and it also allows a marketing agency to request sufficient resources. The biggest benefit of having a costing strategy is that expenditures are controlled, allowing agencies to execute the project without compromising profits.
Some other benefits of a costing strategy in marketing include:
Reduced risks of unexpected expenses

Capacity to plan ahead

Clearly-defined project parameters

Controlled resource allocation

Effective metrics for project progress and effectiveness
There are some challenges to creating a costing strategy, though. A company may not have enough resources – especially financially – to meet a project's estimated budget. It's also difficult to foresee every potential cost, so unplanned expenses might come up, such as changes in market values.
Steps to Create a Project Cost Estimate in Marketing
The process for developing project cost estimates is relatively straightforward. From project scope to cost management, agencies just need to stick with the details and avoid some common mistakes.
Define the project scope
The first step to determining a project's budget is to define its scope. Discuss what is and is not involved so that the relevant tasks are clearly outlined. This includes identifying parameters such as:
Objectives

Processes and operations

Target audience

Limits

Timeline
Clearly defining a project's scope allows team members to allocate resources accordingly. It minimizes the risk of wasting resources on tasks or assets that are not relevant or necessary for the project. It also allows the team to correctly estimate the resource allocation so they don't accidentally provide a too-small budget.
Determine necessary resources
Once the agency has defined the full scope, they can begin planning the necessary resources. These resources will include:
Number of team members needed to complete the project

Necessary equipment and supplies

Timelines for each task or activity
Essentially, any person, item, or schedule that allows a team to successfully complete the project is a resource. You should consider both direct and indirect costs for more precision.
It's also important that agencies allocate resources for potential setbacks or complications. It's unlikely a project proceeds without some issues – such as tasks running over schedule or equipment costs changing over time – so some amount of overestimation is necessary to cover these scenarios.
Agencies should also take into account the possibility of some resources becoming unavailable.
Estimate the costs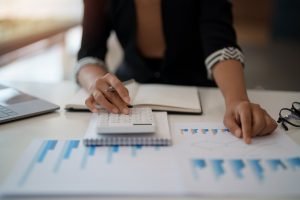 With the full list of resources determined, it's now time to estimate the costs of each resource. A marketing agency may have existing suppliers who can provide equipment, or may have to canvass for suppliers who suit their needs. 
Agencies must weigh a variety of factors when deciding on suppliers or project members, including potential benefits versus risks. Once you've decided on all sources and suppliers, you can now create cost estimates for each.
Break down the costs
Teams can go one step further and break down these costs into smaller, more manageable components. This will allow the team to identify any potential savings or areas that would need a larger budget. You can also make adjustments to the estimates as necessary.
Develop a budget
A project's budget is the sum of all estimated costs associated with the project. This budget forms the foundation of your project's cost controls. Marketing agencies should add a contingency allocation for any unexpected expenses – about 5-10% is a good standard.
Once a budget has been proposed and approved, the project can launch.
Monitor and adjust expenses
Once the project is underway, project cost management becomes crucial to monitor and control expenses. This allows you to compare your actual expenses to the estimates and determine whether you need to make adjustments. Teams can then take action to keep costs under control and prevent the project from going over budget.
In order to monitor budget allocation and expenditures, teams can use budget trackers and project management software. Project leads can then look for areas to reduce costs or reevaluate the estimates and request for additional funding or resources.
Common Project Costing Strategies
Agencies have their own strategies when they determine project cost estimations. These strategies will depend on your own internal systems and policies.
Flat rate
Some projects charge a flat rate for the overall costs of a project. This involves setting a single, predetermined fee that will cover all project costs including labour, materials, and equipment. Companies often pay a flat rate when they're outsourcing certain tasks or projects to third parties.
Hour-based
Other teams or agencies charge their expenses on an hourly basis, with team members tracking the hours they work on a project. The agency will first estimate the necessary timeframe to complete a project and base their budget accordingly. They can then compare their actual work time to these estimates to ensure they're remaining on budget.
Ways Cost Estimates Can Go Wrong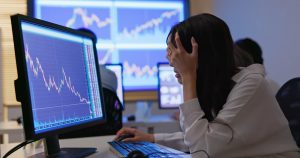 There are mistakes that marketing agencies can make while developing their costing strategies. It's important to consider project scope and required resources carefully to avoid the ways in which your strategy development can go wrong. 
Estimating too far
While project costing does require a certain amount of foresight, agencies should avoid planning too far into the future. Market values for labour, materials, and equipment can change within a few months and these changes will affect the budget. If you project your estimates too far, when the time comes around, your estimates may be out of date – so try not to look past the next 6 months.
Too-broad scope
Having a too-broad project scope can cause project cost estimates to inflate and can lead to unnecessary expenses or wasted resources. Marketing agencies might include tasks that are not even relevant to the project or may end up being superfluous.
It's important to keep the project scope detailed and narrow to allow for the most accurate possible estimates. Agencies can base their estimates on similar projects that they've previously executed so they don't simply generalize potential costs.
Underestimation
In the interest of saving money and maximizing profits, marketing agencies might underestimate their project costs. When avoiding surplus expenses, you may go too far in the other direction and cut costs that could actually benefit the project. Agencies might also undercut costs in an attempt to make the budget appear more favorable.
Manage the Costs of Marketing
Project cost estimates form the foundation of any successful marketing project. It's essential that marketing agencies are accurate and thorough when developing their estimations – and of course, that they account for any hiccups or setbacks. By sticking to the process and avoiding common pitfalls, agencies can set themselves on the path to marketing magic.
Just remember to stick to the budget afterwards!
Want more industry insights? Sign up to the Kika Insider newsletter and get this expertise delivered right to your inbox.